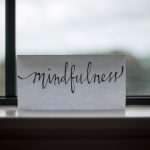 How often are you living in the present moment? Do you savour a meal or a cup of tea without distractions? Do you sit outside in silence for a few minutes, listening to the birds and feeling the cool breeze on your skin?

So many of us have to rush around, day-to-day, running to the next event or thinking about what's for dinner, the chores that have to get done, the weekend plans.

My challenge to you (if you don't already do this) is to carve out even 5 minutes per day to just be in the present moment. Can you stop human-doing and tap into your human-being nature? Read on for ideas on how to incorporate mindfulness into your everyday.

Want to incorporate intentional health habits and mindfulness into your everyday in a fun and supportive environment? Join my last Wild Collective Masterclass happening this Monday, Oct 17th at 7:00pm. Reserve your complimentary seat HERE and scroll down for more details.
In this newsletter:
Resources for Mindfulness
Warming Autumn Drinks and Recipes
Some of my favourite lower-sugar snacks and desserts
Recent Perimenopausal Mamas Podcast Episodes
Last call for my Wild Collective Masterclass this Mon Oct 17th at 7:00pm
Resources for Mindfulness:
I came across this Mindful Directory of online and in-person events (some are in Toronto) to promote wellbeing by incorporating meditation, journaling and mindfulness practices.
I love using the Insight Timer app. They have free meditations, online yoga classes and live online virtual events. Try one of their walking meditations.
Do you eat slowly, while present and not distracted by TV or your computer? I love this 5-minute Mindful Eating Exercise (you can use a raisin, blueberry, small piece of chocolate or any small piece of food) as a reset to remind me to slow down and savour my food.
Warming Autumn Drinks and Recipes:

I have rekindled my love affair with Tulsi tea (aka "Holy Basil"). Some people call it "liquid yoga" (as in yin-yoga, not vinyasa!) since it helps to lower stress hormones, calm the nervous system, and supports a deep and restful sleep. It may also help improve lung function, immunity and blood sugar control. Be sure to steep 1 bag (or 1 tsp of loose-leaf) for at least 10 minutes in boiled water to get the most benefits. I drink ½ mug before bed to support a deep sleep (not a full mug since I don't want to get up to pee too often). I also enjoy a cup in the afternoon as a reset.
Rooibos Chai Hot Chocolate! I steep one bag of Four O'Clock Tea's Rooibos Chai in boiled water for at least 10 minutes. I then add warm almond, hemp or macadamia nut milk and 1-2 tsp of Giddy YoYo's raw cacao powder. If I am craving something a bit sweeter, I will also add some Wedderspoon Manuka honey or Lakanto monk fruit sweetener to taste.
Chaiwala's Fresh Herbal Masala Chai tea. Move over, pumpkin spice lattes! This "wet" tea blend is caffeine-free and contains fresh ginger root, freshly ground spices and honey. You simmer it on the stove with water and your choice of nut-free milk (I am loving macadamia nut milk in it right now), strain and enjoy!
Instant Pot Chili: Pete has made this twice so far (without the sugar) and the secret ingredient is raw cacao powder! It makes enough for two meals with leftovers to freeze.

Some of My Favourite Lower-Sugar Snacks and Desserts:

If you haven't tried Smart Sweets, I have to warn you: they are addictive. With only 3g of "sugar" (from natural fibres and sweeteners) per 50g serving size, they satisfy those sugar cravings. Flavours range from peach slices, sourmelon bites, cola gummies and sweet fish to gummy worms and gummy bears. They don't contain sugar, artificial sweeteners/colours/flavours, sugar alcohols, GMO ingredients, common allergens. AND, they are packed with plant-based fiber to boot.
I love Zazubean Slinky Paleo Low-Sugar Chocolate which contains inulin and stevia to sweeten it instead of sugar. Giddy Yoyo Dark Chocolate is amazing and they also sell Mid-Day Squares, which are raw/superfood squares packed with protein. They are organic, vegan, gluten-free, and non-GMO; I love the Peanut Butta flavour and Fudge Yah flavours.
To satisfy those salty/crunchy cravings, I love Lesser Evil Popcorn, Paleo Puffs and Power Curls (which contain a decent amount of protein).
Recent Perimenopausal Mamas Podcast Episodes:
Last chance: Calling all "Wild Sisters"! Join me on Monday, Oct 17th (virtually)
My final virtual Wild Collective Masterclass is this Monday, Oct 17th at 7:00pm.
Register to discover how to:
Up-level your body literacy and lab testing knowledge
Understand how to listen to your gut, hormonal symptoms and signs your body is trying to tell you
Unpack and overcome your challenges in a supportive community
Understand how to eat in a way that is right for YOUR body
Have powerful health transformations that otherwise seem impossible to do on your own
SECURE YOUR COMPLIMENTARY WEBINAR SPOT HERE

(and see here for a 1-minute video testimonial from Beka, a previous participant)

Are you feeling unmotivated, sluggish and stuck?

Get back on track: book an appointment with me so we can strategize and create a plan that works for your health concerns and your lifestyle. Book your appointment HERE (and in Practice Better). Contact me to book an in-person appointment.
"Nothing is impossible, the word itself says, "I'm possible!". – Audrey Hepburn