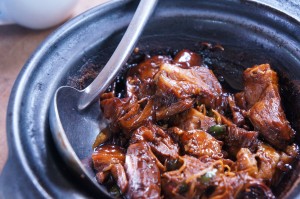 Are you:
Stuck in a rut, eating the same boring meals over and over again?
Too busy to find new recipes to try?
Craving healthy comfort food that takes very little time and energy to prepare?
If so, then it's time to dust off your slow cooker and sign up for my Easy Peasy Slow Cooker Program!
What's included:
10 Slow Cooker Recipes:

7 easy and tasty meals  (such as Slow Cooker Stuffed Peppers and Slow Cooker Maple Mustard Chicken)
3 simple and healthy snacks (Slow Cooker Energy Bars and Slow Cooker Baked Apples)
A Complete Grocery List
Recipes that are gluten-free, dairy-free and refined sugar-free
A combination of vegan and meat dishes
All this for only $9.99 + HST!
Don't have a slow cooker? Don't fret – you can sign up for my SUNDAY MEAL PREP PROGRAM.